This article is a stub!
You can help the Welcome to Bloxburg Wiki by expanding it!
The Punching Bag is a Training item in Build Mode and has an animation where you can punch the bag.
Description
Using this you will sure get a deadly left hook.
Usage
Punching the bag will increase the player's fun and Athletic skill, but at the same time decrease their energy and hygiene and potentially give them the "Workout Fatigue" effect if they work out for too long.
Potential Status Effects
Professional Boxer
Affects:
- Hygiene
- Energy
+ Fun
+++ Athletic
Source: Punching Bag
Workout Fatigue
2 minutes
Affects:
- Hygiene
- Energy
+ Fun
Source: Punching Bag
Gallery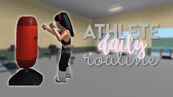 Trivia
There are four grey Punching Bags inside the Bloxburg Gym.
The Punching Bag has it's logo "Punch!" written on it.