Customization, also known as the Avatar Editor, is a feature in Welcome to Bloxburg that allows players to customize their player appearance. All clothing, bodies, and accessories require Bloxburg Money in order to be worn. A variety of storage items such as wardrobes, dressers, and clothing racks allow the player to enter the customization menu. Players can also use the Avatar Editor at Stylez Hair Studio as well. This system is unique because the appearance will stay on the player, even when they reset their character or leave the game in Roblox's menu. The Customization feature is unlike any other feature in game, this feature allows you to put in codes from the Roblox Customization feature. This allows you to wear anything from Roblox's avatar editor!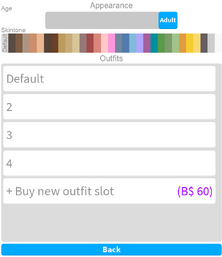 Appearance
Ages (Height)
Baby

Players who select this option will become even smaller than the kid option and will be crawling instead of walking. They also cry when their Mood is low. This option causes the player to lose access to some available features, such as cooking and many other basic functions. The Baby age also allows the player to use most baby related items.
Kid

Players who select this option will become small and lose access to certain features, such as driving and working.

Teen

Players who select this option will have the same features as an Adult can, but their avatar will be shorter.

Adult

Players who select this option will become tall and have access to all the features available on Bloxburg.
Skintone

Outfits
Players can buy a new outfit slot for 60 Blockbux. If a player has more than one outfit, they can switch outfits anywhere.
Gallery
Icons
Trivia
The most expensive item is the ':( Front Stand' hat, which costs $100,000 Money.
There is another skintone on the slider (White) which is extremely hard to see against the menu's white. The skintone is on the far right of the slider.
As of 0.9.1a, no piece of clothing requires Blockbux to buy.
When a player resets their character, the avatar will remain the same as they selected it to be.

There are other games which do happen to have an issue where the customized avatar in the game gets erased once one resets, Bloxburg does not have that issue because this system was uniquely created.

In Version 0.8.1, the Avatar Editor received an overhaul. From the Changelog, the overhaul had these updates:

You can now permanently buy assets for your Roblox character in the Avatar Editor. This will give you a Blockbux reward and you'll be able to use the asset for free in-game.
You can now import custom assets in the Avatar Editor.
You don't need a dresser to change your outfit.
Added several new accessories, clothes, and emotes to the Avatar Editor.