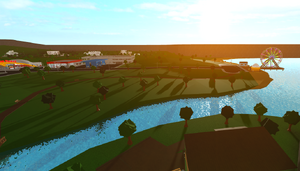 Bloxburg is a fictional city that serves as the primary location in the popular Roblox game, Welcome to Bloxburg.
The whole city is surrounded by a rock border, and splits at a river that flows into a larger body of water. Rough Trees are found scattered around the map. The two ends of the border are currently located by the Beach.
Bloxburg locates several buildings, most of them are located at the centre. Other buildings can be found by the Beach, Mountain, or the highway. The outskirts of city are separated into two areas, Bloxy Acres and Riverside Estates. These two areas are where houses created by players can be found.
List of Locations
Job Locations
General Locations
Location
Image
Description
Beach

A small sandy beach, with a ferris wheel where you can get your Fun up! You might want to get some ice cream after, too!
Beat Nightclub

A luxurious nightclub in the heart of town where two vendors sell drinks. Players with the Unlocked Stereo gamepass can use the DJ Booth.
Bloxburg City Hall

Serves no purpose other than being in the center of town, being the city hall.


It may have a purpose that will possibly be implemented at a later date.


Some Players use it as Roleplay School.

Bloxburg Gym

A place where players can build up their athletic skill for free.
Campsite

A small campsite that can be used by players.
Fancy Furniture

A furniture store where players can buy some Build Mode furniture. Run by Susan Joiner.
Ferris Wheel

An attraction on the boardwalk. Built for amusement and slightly increases fun and energy.
Gazblox

Gas station and convenience store where players can stock up on snacks and drinks.
Gliding Range

Players can access the Gliders and use them here.
House

The player's own house/plot.
Mountain

A location where players can climb up to get to the wind gliders.
Observatory

An observatory where players can admire the view.
Parking Garage
A parking garage that has an unknown usage.
Tunnel

Players can drive through the tunnel to visit the Observatory.
Holiday Locations
| Location | Image | Description |
| --- | --- | --- |
| Boomer's Fireworks | | A stand selling a variety of fireworks during Independence Day and New Year's. |
| Graveyard | | A graveyard that is used for aesthetics during Halloween. |
| Ice Skating Rink | | An ice skating rink where players can skate during Christmas and New Year's. |
| Plenty O' Pumpkins | | A hut and trailer that sells Autumn decorations and foods during Halloween. |
| Santa Photo-Op | | An aesthetic building in the city of Bloxburg that players can use to take pictures with their avatar and Coeptus' depiction of Santa. |
| So Sweet | | A stand in front of Bloxburg Fresh Food store during Valentine's Day that sells a variety of sweets and items. |
| Sledding Hut | | A hut that sells food and various types of sleds during Christmas and New Year's. |
| Tom's Tree Lot | | A tree and poinsettia shop run by the mayor of Bloxburg, Tom, during Christmas. |
Removed Locations
Gallery
Trivia
According to a sign, Bloxburg has a population of 50 people which might have foreshadowed the Neighborhoods feature which have a limit of 50 players per server.
The Bloxburg tutorial guide, known as Tom, states that Bloxburg is in the heart of Robloxia, and that Bloxburg has a fast population growth.